Taste of Macao
---
The stunning variety of distinctive cuisines available in Macao - Portuguese, Chinese, Japanese, Indian and so much more - makes this international city a veritable paradise for foodies. With an increasing number of restaurants to choose from, there is something to please every palate. And in addition to a choice of international mainstream wines and spirits, the intrepid bon vivant can find many superior and reasonably priced Portuguese wines that are now emerging onto the international stage.
1. Macanese & Portuguese Dishes
Macanese cuisine is unique and irresistible. It is a special combination of Portuguese and Chinese cuisines, with ingredients and seasonings collected from Europe, South America, Africa and South East Asia. Authentic Portuguese cuisine is also widely available in Macao, affordable and irresistible.
Fried Clams Portuguese Style
This dish is closer to fried clam soup than Korean stir-fried dish with chili paste dipping sauce. The clams are fried with olive oil and then boiled with white wine, garlic sauce and lemon juice. It boasts the unique taste of clams and flavor of olive oil, while it is also infused with the aroma of wine, adding complexity to the dish.
Crab Curry
Crab Curry uses a whole Vietnamese mud crab. It's one of the most expensive Macanese/Portuguese dishes and is also a dish which has been heavily influenced by India. Its unique spices and creamy coconut milk sauce combined together to deliver a superior taste. Usually, it's served in big portions, so it's better to order it when eating with 2~3 people. Enjoy the crab meat and mix white rice with the curry sauce!
African Chicken
A traditional Portuguese dish of grilled chicken topped with piri piri sauce, which is a mix of pepper and herbs and has its own unique taste. The cooking style varies according to the restaurant, with some places having a slightly spicy curry sauce than the true piri piri, and some places pouring the sauce on top of the fried chicken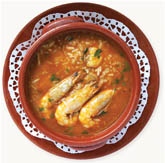 Portuguese Style Seafood Rice
It's boiled with fresh tomato puree and shrimps, mussels, octopus and other various seafood. It's an excellent combination of the clean taste of seafood stock and refreshing tomato puree. Restaurants are divided into those that opt for the refreshing taste of tomato puree and those that instead use cream for a creamy taste.
Stuffed Squid
Portuguese sausage chouriço, onion, garlic, minced meat and egg-whites are all mixed together and stuffed inside the squid, which is then topped with tomato sauce. It's quite a delicacy!
Roast Suckling Pig in Portuguese Style
This is the best Portuguese pork dish. Its crunchy skin and lean meat creates a whole new taste sensation.
Pastéis de Nata (Portuguese Egg Tarts)
Though this dessert originated in a monastery in Portugal 200 years ago, it became popular only after it arrived Macao. The egg-custard stuffed pastry with a bitter caramel flavor really captivates everybody's soul.
Egg Pudding
It's not fancy and is just a light pudding, but it does the basics well. If you spread caramel on the outside, it becomes akin to caramel custard. Depending on the sauce, you can also make various changes.
Tuna Salad
The traditional Portuguese salad is tuna with vinegar-cured chickpeas, all mixed together, while the traditional Macanese salad is tuna mixed with vegetables. The sauce used tends to be olive oil, slightly seasoned with salt. Canned tuna is most commonly used, but, in some high-class restaurants, fresh tuna is chosen for its freshness, and it does indeed means a huge difference reflected by your taste buds.
2. Chinese Dim Sum & Dishes
Chinese dishes can often seem never ending in their diversity and imagination. There is a saying amongst some parts of China, that Chinese people eat anything that flies - except planes; and anything that has four legs - except tables.
Steamed Shrimp Dumplings
A chewy half-transparent cover filled with shrimp and pork. You will be surprised by the size of the shrimp and the sweet juice which oozes from the shrimp when you chew on it. It's one of the most popular Cantonese Dim Sum dishes, with a taste you can never forget.
Chicken Feet
Chicken feet boiled with Cantonese sauce, which are full of fruitful collagen; it has become popular among female travelers recently.
Steamed Barbecued Pork Buns
This Dim Sum has a thick outer layer, akin to steamed buns, and is stuffed with a sweet pork filling which has been boiled in soy sauce and sugar. As it's bigger in size than other Dim Sum, it's particularly popular with those who prefer to travel on a full stomach.
Steamed Fish
This is Cantonese-style steamed fish. Pour hot oil over a slightly cooked fish to make the outside crispy and then add a dash of special light soy sauce. You can eat the meat with the soy sauce and enjoy the flavor of clear spring onion from the soy sauce.
Deep-fried Crispy Chicken
This is Cantonese-style crispy chicken. A boiled chicken is marinated in starch syrup and has boiling oil poured on it to make the skin turn nice and crispy. If you are a fan of chicken dishes, you will definitely enjoy it.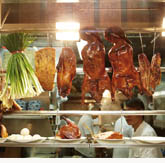 Roasted Goose
This is one of the best Chinese poultry dishes, together with Beijing duck. It's boiled goose marinated in starch syrup, done in the same cooking style as with Deep-fried Crispy Chicken mentioned above. However, roasted goose is cooked first over a wooden fire, sometimes even up to three times, with sauce being applied in each time. This makes for an extraordinarily special texture for the fully marinated meat.
Barbecued Pork with Honey
It's skewered pork barbeque. After grilling, apply malt to give it a gloss, and use a torch to heat it once again. It's a humble meat dish with a sweet and smoky flavor.
Chilled Mango and Sago Cream with Pomelo
Normally it's called Sago. It's a dessert with mango juice mixed with coconut milk and grape fruit pulp and various sliced fruits, eaten with a spoon. The taste varies by restaurant, with some places adding a lot of coconut milk in to enhance the smoothness and some places adding sour fruits like pineapple to make it more refreshing.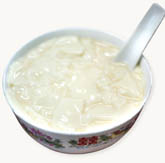 Chilled Sweetened Bean Curd Flavored with Almond
It's an unfamiliar tofu dessert. It's soft tofu covered with ground almond sweet sauce. The soft texture of tofu and almonds make for a harmonized flavor.
3. Local Food
Find the real taste of Macao at the corner of an old snack shop or somewhere on the street. Leave your stomach empty and peer into the alley.
Pork Chop Bun
A Macao-style burger in a crispy baked baguette with thickly sliced grilled pork meat in between. It is different from a regular hamburger as it doesn't have vegetables or sauce, but just meat to enjoy the taste, and the grilled charcoal flavor on the pork is a great combination.
Porridge (Congee)
Porridge is a favorite breakfast among Macao locals and Chinese people. The most common dish is white porridge, but depending on what is inside, it can also be a high quality dish. The most recommended one is the porridge with fresh water crab that has a whole crab inside. Just like the Chinese saying 'You can eat a cow secretly but you can't eat a crab secretly', the flavor and taste of the crab inside the porridge is outstanding.
Beef Jerky
This is one of Macao's specialty snacks. There are various types, from beef, chicken and pork.
Dried Shrimp Roe Noodles
It's dried noodles slightly fried with sea shrimp roe and mixed with egg noodles. The shrimp roe are too small to chew but as it breaks down between the teeth, the flavor is surprisingly strong, so that you can taste the salty sea in your mouth, even with a small amount. It is best with egg noodles that are as bouncy as string instruments.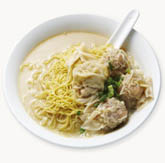 Wonton Noodles
This is a well-known noodle dish called Wonton noodles. Yellow chewy egg noodles with small shrimp dumplings and the tasty soup made of boiled dried fish attracts the travelers with its taste.
Almond Cookies
These are some of Macao's most popular traditional cookies. They have a lot of almonds, meaning every bite is crunchy, but it's recommended that you eat it with a drink because it's dry.
Rua do Cunha (官也美食街)
Location: Rua do Cunha, Taipa
Renowned far and wide by foodies, this tiny street nicknamed "Food Street" offers the snack-happy explorer a delicious trip through Macanese culture, from its authentic Portuguese restaurants to its beloved Chinese cookie and jerky shops. As locals and frequent visitors happily attest, you'll know when you're close – just follow your nose!